Quick Reference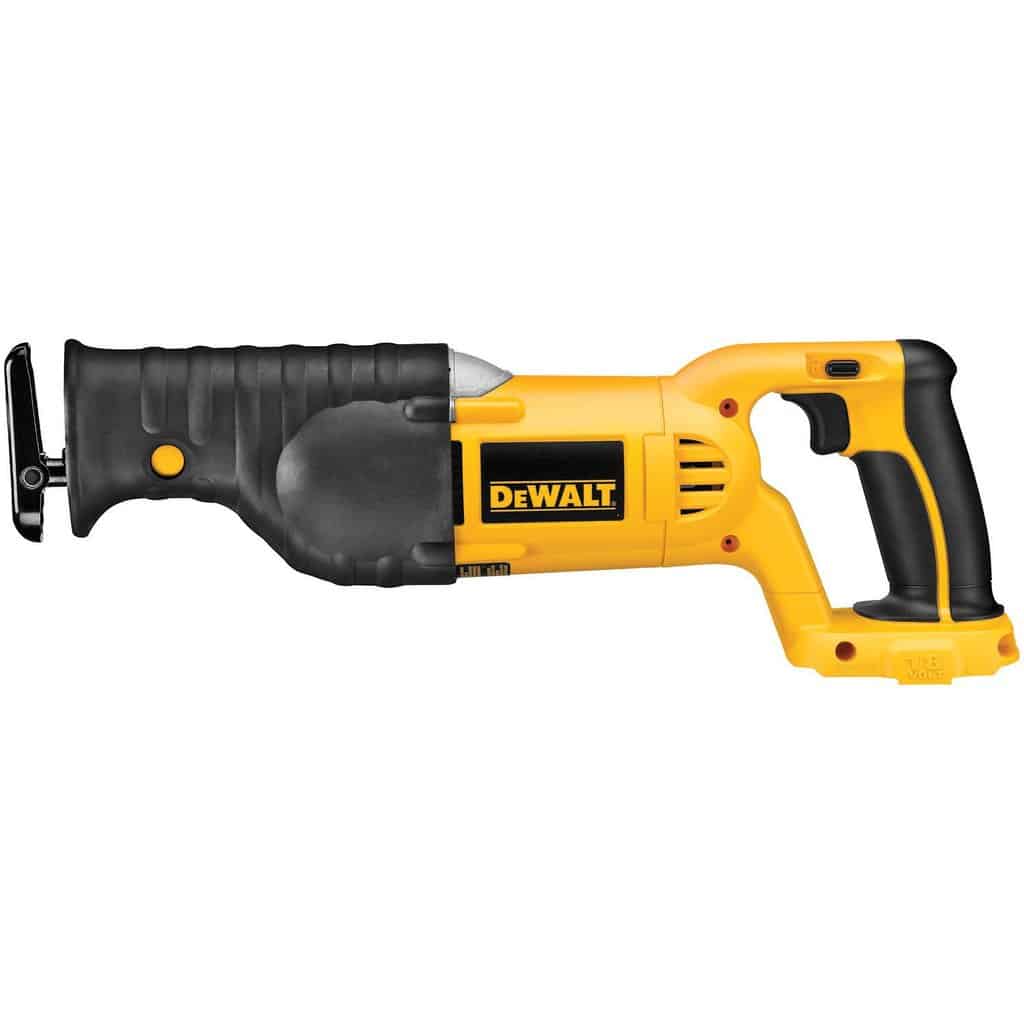 The DC385B 18V cordless reciprocating saw has a long 1-1/8-inch stroke, up to 3000 SPM, single lever blade clamp and a four-position blade head for superior flush cuts or tight spaces.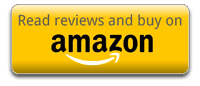 Features

18V running voltage provides plenty of torque
1-1/8-inch stroke length for faster, deeper cuts
0-3000 SPM controlled by variable-speed trigger
Pivoting and adjustable shoe to compensate for cut depth and angle
Single lever blade clamp for lightning fast blade swaps
Four-position blade chuck for tight spaces and flush cuts anywhere
Three-year warranty plus optional full-service 1-year warranty available from DeWalt
PROS:
4-position chuck/collet is super convenient for flush cuts
Long stroke length and variable speed provide plenty of cutting versatility
Quick-release blade clamp
Works with most DeWalt 18V battery/charger combos – see note below
3-year limited warranty
CONS:
Bare tool, no bag, case, batteries or charger
Overview
With the portability of a cordless tool, long stroke length and a number of convenience features, the DeWalt DC385B cordless reciprocating saw is one handy bit of machinery to have in your tool arsenal. It can cut through anything quickly and efficiently such as wood, metal, pipe, plastic, ductwork, cabinets, steel studs, sub-flooring and even tree branches. It is right at home on construction, craftsman, plumbing and demolition jobs.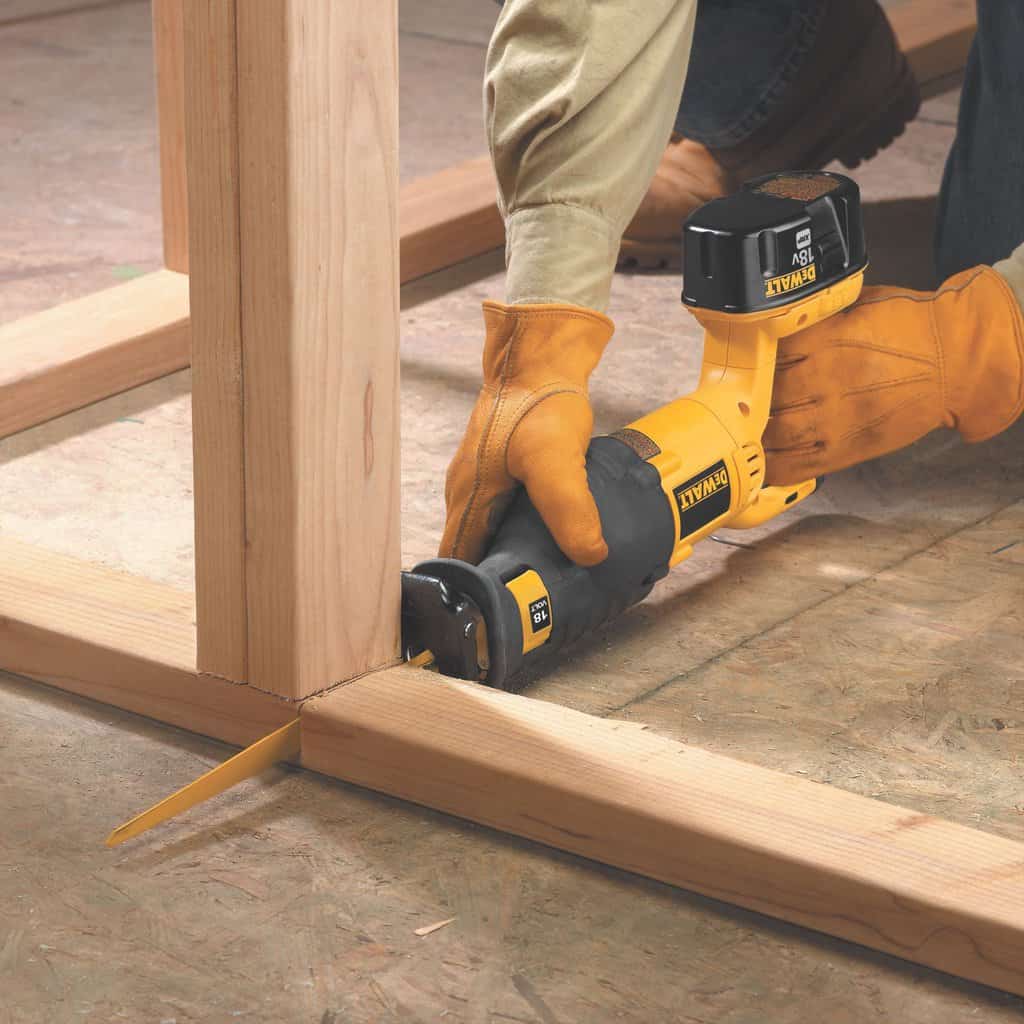 This is a cordless saw that keeps up with many corded varieties in the same price class. It has a long 1-1/8-inch stroke and a variable stroke speed from zero to 3,000 SPM. An electric brake stops the blade instantly for increased safety and longer blade life. It is easy to monitor the cut through the open top, pivoting shoe and changing blades is unimaginably easy. Just flip up the lock lever, the old blade falls out, insert a new blade and release the lever. Done.
Perhaps the most outstanding feature of this cordless saw is the four-position blade head that allows you to change direction of the cut: up, down, right and left. You will not know how you lived without this feature when you are cutting in the most awkward, tight spaces or need to flush cut pipe or bar against a large flat surface.
What Buyers Are Saying
The DeWalt DC358B is an extremely well-reviewed cordless reciprocating saw, whose popularity and hundreds of good reviews should almost be enough to motivate you to buy it right now.
Although it would not stand up head-to-head power-wise to, say, a Milwaukee 6538-21, the DeWalt DC358B is often the first saw owners reach for when attacking heavier duty jobs. It is super convenient, lightweight and can work all day with sufficient battery backup. Most buyers comment on how well-balanced and comfortable this saw is to handle even when they are cutting through piles of 2 x 6 studs. Doing that kind of work, they typically get 2 or more hours from a single lithium battery.
This saw is so useful that reviewers often take it out to do one job, e.g. tree pruning, and end up finding more jobs for it immediately. Thus, there are some buyers disappointed in the battery life as it runs out before they do. The lesson here is to buy at least two backup batteries as you will probably use them.
Note: The DC385B comes without a battery or charger. Dewalt's DC9096 18-volt XRP battery pack and DW9117 15-minute charger is recommended, but any DeWalt 18V NiCad or lithium battery will fit with a strong caveat:
Never charge a lithium battery with a NiCad charger or you will permanently damage the battery and charger. You can, however, use a lithium charger to recharge a NiCad battery. For reference, DeWalt color codes their battery chargers; yellow for lithium, black for NiCad.
Verdict
The Dewalt DC358B reciprocating saw has been around a while, continues to be improved and is as popular as ever. It combines the convenience of cordless with some nice advanced features to make a truly useful saw. Although the batteries and charger can cost as much as the bare tool, it is still an excellent value overall.