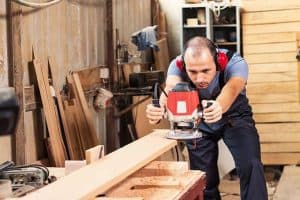 No matter what kind of workshop you've got, there's no denying the iconic look and required need for that of a miter saw. Miter saws are one of the most notable types of saws out there for any workshop, and they allow you to make extremely accurate crosscuts and miters in the wood that you're working with. Miter saws are frequently used for working on picture or door frames, window castings, and even crown moldings. As you shop around, you'll quickly notice that all miter saws out there come equipped with a blade that's attached to a swinging arm. This arm enables the blade to move both left and right, and allows for the extreme versatility you tend to find with these types of saws.
There's certainly a lot that goes into any miter saw, but a great deal of people out there are under the impression that all miter saws are made equal. However, this is far from the truth. In fact, miter saws come in a wide variety of different styles. There are three notable categories that miter saws are broken up into, and these categories help the buyer make their purchasing decision based on knowing just what they're going to get out of their new workshop gadget.
Miter Saw Types
The first type of miter saw is that of the compound miter saw. Along with moving left and right, the compound miter saw also has the ability to tilt in one single direction. This allows for the saw to create beveled cuts in your woodwork, and moving it from both of the available axis at once single time will allow you to get that compound miter cut from which this type of saw gets its name from. These compound cuts prove to be the most useful when you find yourself working with any type of project that requires you to make angled cuts in two different planes. Not every project will require this sort of mobility, but when you encounter one that does, you'll be glad that you've got a compound miter saw at your side.
Along with the compound miter saw, the dual compound miter saw is also quite popular with woodworkers. Dual compound saws function quite similar to their single compound brethren, dual compound miter saws have the ability to tilt both left and right – unlike the singular direction restriction found with traditional compound miter saws.
And, finally, there's the sliding compound miter saw. The sliding compound miter saw has all of the great features that you'd find with a normal miter saw, but also include something that's called a radial arm saw. This radial arm saw allows you to move the blade not just left and right, but in a forward and backwards motion as well! Folks that opt for the sliding compound miter saw are often those who want to maximize the distance that they're able to reach with each and every cut. The sliding compound miter saw is able to get the longest cut length of the three, making it a great choice for woodworkers who place a large priority on this area.
In addition to the different categories that need to be looked at when purchasing a miter saw, there are also various features that you'll want to keep an eye out for as well. Miter saws are a whole entire breed of their own, and as a result, have a specific set of features and specifications that you need to keep an eye out for when you begin your buying process.
Some of the most notable features to keep an eye out for include:
Blade size – Depending on the type of work you're going to be doing with your miter saw, you'll want to choose a blade length that will best meet your needs. The most common blade sizes when looking at miter saws are 8, 10, and 12-inches. As you'd expect, the greater your blade size, the longer of a cut you're going to be able to make in a single pass-through.
Dust bags – As you conduct a lot of cutting with your miter saw, you're consequently going to create a lot of dust from wood shavings that your woodwork is going to produce. In order to  keep your work space as clean as possible, dust bags are set in place as a way to collect sawdust during your cutting process.
Laser guides – If getting the most accurate cut is critical for your line of work, you're going to want to make sure that your new miter saw comes equipped with a laser guide. Laser guides are mounted directly to your miter saw, and project a laser beam onto the wood that you're working with – enabling you to get the most precise cut possible.
Positive stops – If you frequently have to make certain angle cuts with your work, positive stops will come in handy quite a bit. These stops are included with your miter saw by default, and are preset cut points that allow you to quickly and efficiently make various angle cuts without having to set up certain cuts each time you go to make them.
Although there are certainly other features that are worth keeping in mind, these are some of the most important ones that we recommend keeping an eye out for when you begin looking and shopping around for your next miter saw.
And, without any further ado, here are five of the best miter saws that you can currently buy. These saws are listed in no particular order, but each one is very deserving of a spot on this list.
Top 5 Best Miter Saw Reviews
1 - Hitachi's C10FCE2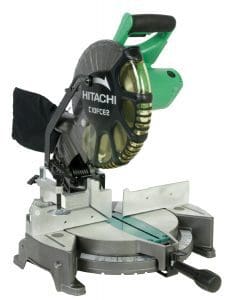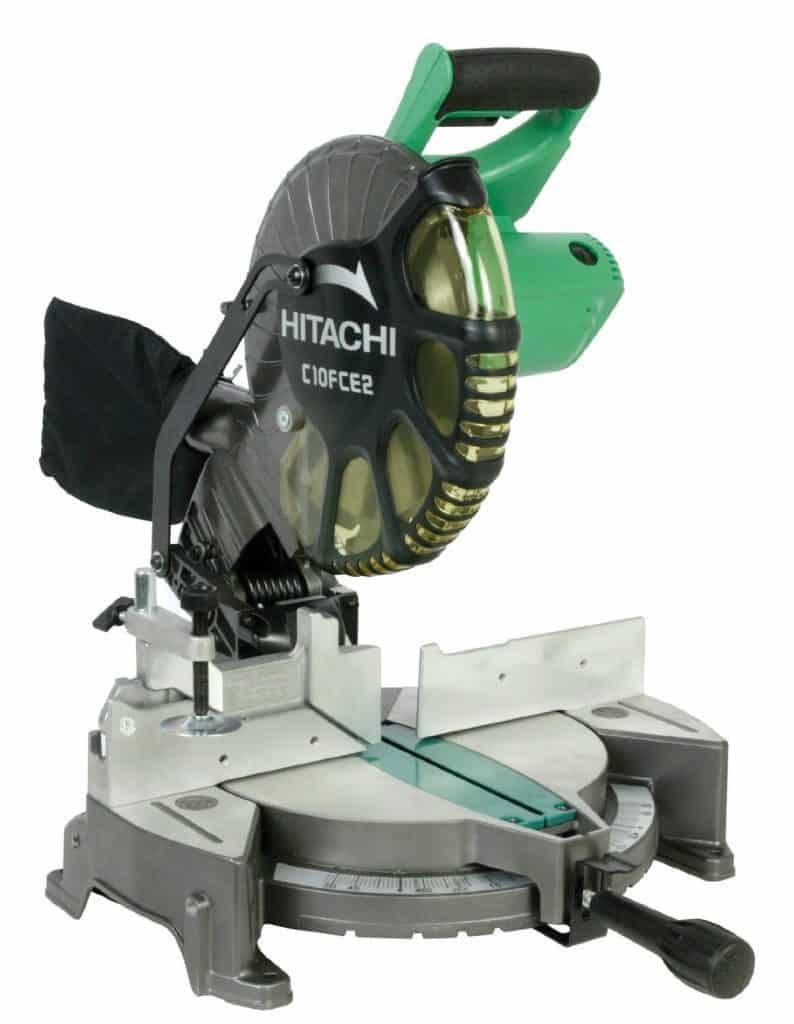 Hitachi's C10FCE2 falls into the category of a single compound saw, meaning that you'll be able to move the blade both left and right when it comes time to perform your woodwork. The actual range for these left and right movements comes in the form of a 0-52 degree range, meaning that you'll have a surprisingly wide range of angles for cutting when you consider the relatively compact design of the C10FCE2. And, when it comes time to make vertical cuts, Hitachi has included a extended flip fence that has the ability to raise up to 4-inches in height – a feature that will prove to be incredibly convenient when cutting crown moldings from a vertical standpoint. Top this off with the bevel range of 0-45 degrees to the left for some of the most precise cuts possible, and we're already looking at a pretty sweet deal.
However, that's not all that the Hitachi C10FCE2 has to bring to the table. While this compound saw is certainly capable of making some rather versatile and impressive cuts, it also does quite a lot with the end user in mind. There's a likely chance you're going to be doing a whole lot of cutting with this thing, and with that thought in mind, Hitachi has padded their horizontal handle with a soft and vibration reducing grip. Not only does this included grip add a great deal of comfort to the overall handling experience, it also allows you to get an even better control of the C10FCE2 than you might have thought possible. And, as we talked about above, the Hitachi C10FCE2 also comes equipped with positive stops and an attached dust bag to keep your work space free of wood shavings. Combine all of this with a 5-year Professional Warranty and an incredibly durable design, and we've got a pretty capable package with the Hitachi C10FCE2.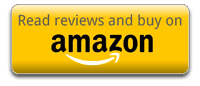 2 - DEWALT DW715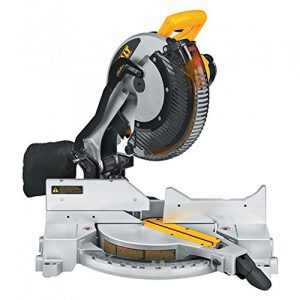 Similar to the Hitachi C10FCE2 above, the DEWALT DW715 also falls into the category of a normal compound miter saw. However, DEWALT has done a fair share of their own tweaking to make this stand out from the rest of the crowd. For starters, DEWALT has done something interesting with the positive stops that are included. Although they are set to certain angles and positions out of the box, you are able to readjust these to whatever angles you'd like for them to be. This might seem like a small feature on paper, but has the ability to greatly reduce the length of certain projects you'll encounter. Additionally, the miter detent plate, that has 11 positive stops, can be adjusted as well.
As great as that already sounds, the goodies are far from over. If you're someone who does a lot of vertical cutting with your work, the DEWALT DW715 might be the perfect companion you've been searching all this time for! When working with crowd moldings, the DEWALT DW715 is able to cut up to a height of 5 1/4-inches. When working with base moldings, that height goes up to a whopping 6 1/2-inches. The sliding fence that's bundled with the DW715 also helps to ensure that these cuts will slide nice and securely during your work. Also featured here with the DEWALT DW715 is a motor that's rated at 15 amps, no-load speeds of up to 4,000 rotations per minute, and 4 steel bevel stops that allow for even more versatility within your cuts. Plus, the cherry on top comes in the form of a 3-year limited warranty and a 1-year period of free service work if/when it needs to be done.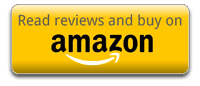 3 - DEWALT DWS780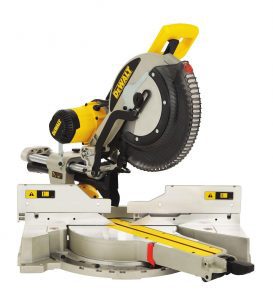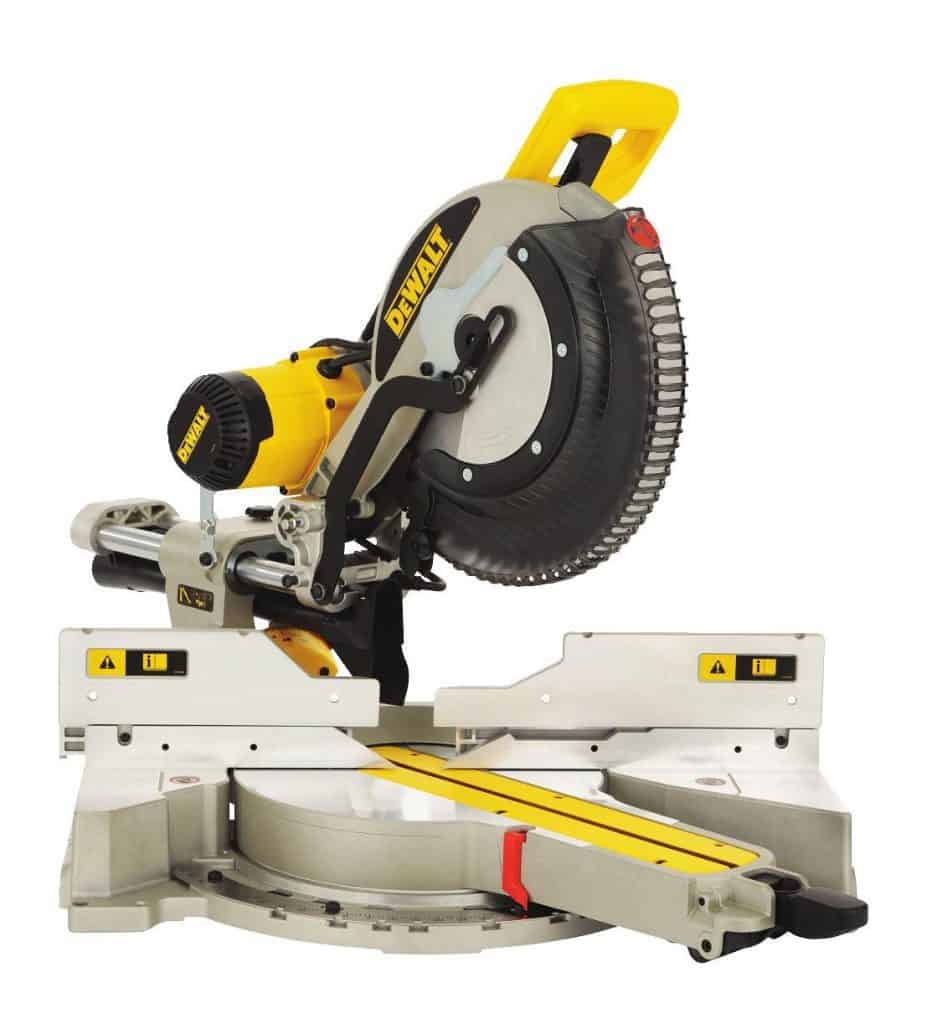 Single compound miter saws are great, but what if you need even more versatility when it comes to your woodwork? If this is the case for you, the DEWALT DWS780 is absolutely worth checking out. This particular product is categorized as a dual compound miter saw, meaning that you have the ability to tilt both left and right – unlike the single movement of normal compound saws. While that added versatility is nice on its own, DEWALT decide to go the extra mile to make the DWS780 as powerful and functional as humanly possible. This is first seen with the DWS780's XPS positioning system. This system is a great companion when it comes time to make any sort of crosscuts, and even allows you to have access to adjustment-free indication of your cutting line. If you're someone who needs to have one of the most precise cuts on Earth, the DWS780 was built with you in mind.
But, as you'd probably expect, DEWALT didn't stop there. Another great feature that's included with the company's DWS780 is one of the most efficient dust collection bags we've ever seen on any type of miter saw out there. The system that DEWALT has created for the DWS780 allows for over 75% of all your dust shavings to be collected, meaning that your work area will stay cleaner and neater than you probably ever though possible. And, on top of this, DEWALT has also added 10 positive stops for the DWS780. But, just like the DW715 above, these stops can be adjusted to accommodate whatever angle or size you would like. Powering this whole show is a 15 amp motor that's capable of delivering 3,800 rpm, and a super durable and rugged design.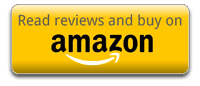 4 - Bosch GCM12SD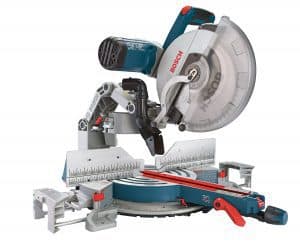 The next item on our list is the only one to feature a sliding compound miter saw design. As a refresher, sliding compound miter saws include all of the functionality you'd find in a normal compound miter saw, with the inclusion of the ability to move the blade forwards and backwards. The range of motion makes the Bosch GCM12SD the most versatile on our list, and the saw's patented axial-glide system only re-enforces that idea. This system allows the Bosh GSM12SD to not only make precise cuts, but also makes it incredibly durable and compact at the same time. This is a combination that you're not likely to find in the world of miter saws, so the inclusion of it here makes the Bosh GCM12SD all that much more enticing. Combine this with the horizontal capacity of 14-inches, and we've got an easy winner on our hands.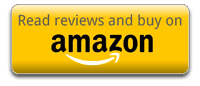 5 - Homecraft H26-260L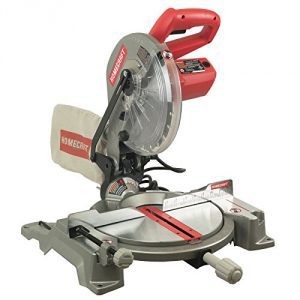 And, finally, we're rounding out our list with the Homecraft H26-260L. This particular saw is one of the compound nature, and has one of the most lightweight designs that you're going to find for a miter saw in this category. Along with being able to be easily moved from room to room, the H26's ability to be used with virtually any saw stand further increases to the portable nature of what Homecraft was trying to achieve here. The ergonomic handle makes handling the H26 comfortable and safe, and the LockOut switch helps to prevent any unwanted use of the H26. If you're looking for a portable, compact, miter saw that gets all the basics right, this is one that's absolutely worth your time and attention.